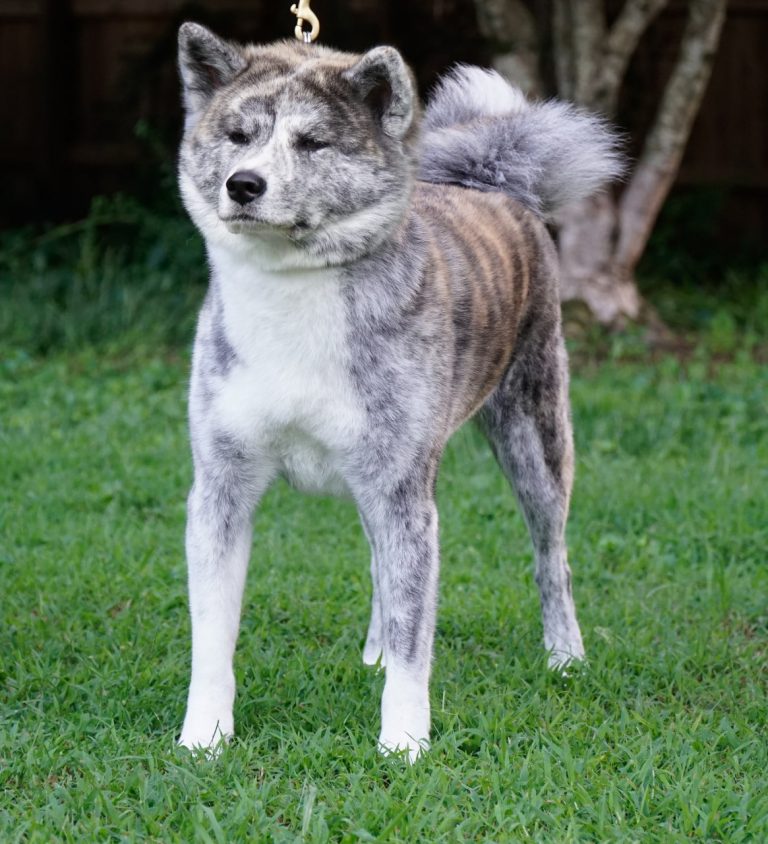 Senka is the founding canine member of our kennel and is also the first Japanese Akita that we have had the pleasure of bringing into our home. We acquired her in August 2017 from Kaiju Kennels in southern California.
Senka has wonderful personality, is extremely affectionate with her people, loyal, playful, mischievous, full of energy, and very focused when doing performance activities. We love her wonderful red brindle coloration and feminine features.
Senka has proven herself in multiple performance avenues such as Barnhunt, Nosework, coursing, and tricks. She is a joy to work with and gives great focus and attention to her handler.
Registered Name
UKC GRCH Int CH Futami Go Kaijusou SWN SEA SCA SIA BCAT NC NE AV RATS RACEN ETD
Call Name
Senka
AKIHO #
17-4395
UKC #
P840903
AKC #
NP63776102
Sex
Female
Color
Red Brindle
Born
20 MAY 2017
Genetics

E/e may contribute colored or white
kbr/ky may contribute brindle or red
L/l may contribute normal or long coat

Health

OFA Hips: Good, May 31st 2019
OFA Eyes: Normal w/ breeder option (PPM), August 3rd 2021
OFA Thyroid: Normal, February 14 2019
OFA CHIC Number: 140663

Amelogenesis Imperfecta (familial enamel hypoplasia (FEH)): N/N (not affected and does not carry the recessive gene)
Pedigree
Toramaru Go Shirai
Yuushou Go Musashi Aiwa
Matsukaze Go Musashi Aiwa
Sara Go Shirai
Tamayuu Go Aomori Mikamisou
Taiyoukou Go Akita Iijimasou
Yaotome Go Zenhosha
Mizuki Go Kousetsusou
Riki Go Minatomaru
Dairyuu Go Minatomaru
Hana Go Ryuukaen
Kuromikage Go Kousetsusou
Takeryuu Go Marunosou
Haru Go Ryuukaen
Conformation Achievements
UKC Top Ten #5 Japanese Akita, 2019
UKC Grand Champion, June 16 2019
UKC Total Dog Award, June 15 2019 
IABCA International Champion (IntCh), February 16, 2019
AKIHO Sohken 3rd Female, February 10, 2019
UKC Top Ten #3 Japanese Akita, 2018
AKIHO Yoken 1st Female, February 11, 2018
UKC Champion, December 2nd 2017
Performance Achievements
New Fast Cat Title: BCAT May 2 2021    
New Scentwork Title: Scent Work Novice (SWN) March 28 2021  
New Trick Dog Title: Expert Trick Dog (ETD) May 5 2020
New Trick Dog Title: Expert Trick Dog (ETD) May 5 2020        
New Trick Dog Title: Advanced Trick Dog (ATD) April 30 2020
New Trick Dog Title: Intermediate Trick Dog (ITD) April 30 2020
New Trick Dog Title: Novice Trick Dog (NTD) April 13 2020
New Barnhunt Title: Senior (RATS) July 14, 2019 (First Japanese Akita to achieve RATS)
New Nosework Title: Advance Vehicle (AV) June 16 2019
New Precision Coursing Title: Novice Sprinter (RUNN) June 15 2019
New Nosework Title: Novice Exteriors (NE) June 15 2019
New Nosework Title: Novice Containers (NC) June 14 2019
New Barnhunt Title: Open (RATO) March 2, 2019 (First Japanese Akita to achieve RATO)
New Barnhunt Title: Novice (RATN) February 2, 2019 (First Female Japanese Akita to achieve RATN)
New Barnhunt Title: Instinct (RATI) February 1, 2019
New Nosework Title: Novice Vehicles (NV) June 17 2018
Show History
Specialty Show
Feb 11 2018: AKIHO Yoken Female 1st. Judge: Ryoji Suzuki
Feb 10 2019: AKIHO Sohken Female 3rd. Judge Kōsei Miura
All Breed UKC
Dec 1 2017: Best of Breed. Best Female. Group 3. Judge: Emily Carabello
Dec 1 2017: Best of Breed. Best Female. Group 3†. Judge: Tami Hayden
Dec 2 2017: Best of Breed. Best Female. Group 4†. Judge: Lynette Rutz-Komorowski
Dec 2 2017: Best of Breed. Best Female. Group 3†. Judge: Debra Mitchell
Dec 3 2017: Best of Breed. Best Female. Group 3. Judge: Tracy Doty
Dec 3 2017: Best of Breed. Best Female. Group 4. Judge: Carrianna Glenn
Mar 3 2018: Best of Breed. Champion. Group 4. Judge: Dr. Bev Sigl Felton
Mar 3 2018: Best of Breed. Champion. Group 4. Judge: Nancy Eilks
May 5 2018: Best of Breed. Champion. Group 1. Judge: Elizabeth Mckennon
May 5 2018: Best of Breed. Champion. Judge: Carrianna Glenn
May 6 2018: Best of Breed. Champion. Group 3. Judge: Teresa Kocher
June 15 2018: Reserve Champion. Judge: Carol Gaines
June 16 2018: Reserve Champion. Judge: Polly A. Dake-Jones
June 17 2018: Champion of Champions. Judge: Lila Fast
Oct 20 2018: Champion of Champions†. Group 3. Judge: Barbara Trammel
Oct 21, 2018: Champion of Champions†

. Group 4. Judge: Sandra Spoull-Kowalski

 
June 14 2019: Best of Breed.†. Champion of Champions. 

 

Judge: Gary Anderson

 
June 15, 2019: Best of Breed.†. Champion of Champions. 

 Judge: Deborah Allen

June 16, 2019: Best of Breed†. Champion of Champions. 

 Judge: Sue Phillips

August 10, 2019:

Best of Breed. Best Grand Champion

.  Group 1†. Judge: Annick Keeler
August 11, 2019:

Best of Breed. Best Grand Champion

. 

Group 1. Judge: Brenda Landers
Japanese Breed Exclusive
Feb 10 2018: Reserve Best Champion. Judge: Jerry Brown
Feb 9th 2019: Reserve Best Champion. Judge: Kevin Izard-Carroll
† Competition Win towards Champion/Grand Champion
International Show
Feb 17 2019: Best of Breed. V1 Rating. Judge: Kristin Block