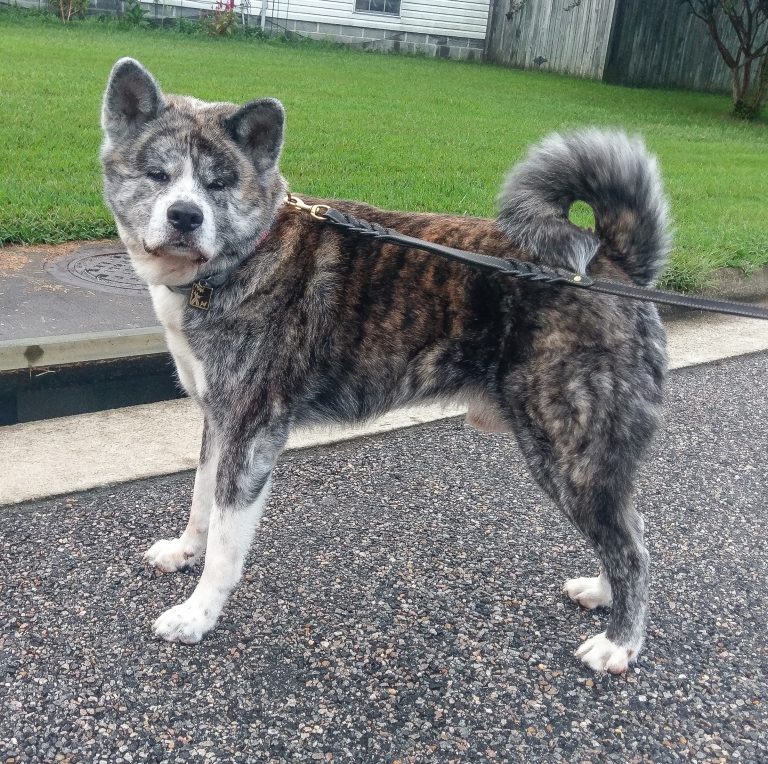 King Ghidora is our second Japanese Akita. Originally imported from Miyagi Prefecture, Japan by Kaiju Kennels, we obtained him as our first stud dog.
Ghidora is the first male UKC Grand Champion Japanese Akita and has been recognized by both American and Japanese judges for his excellent type.
Ghidora possesses many wonderful qualities that we feel not only make him a wonderful pet, but also make him a worthy stud. He is exceptionally loving and affectionate with people and has a very easy going and laid-back nature that make working with him a breeze (nail trims, ear cleaning, bathing, are stress free). He has passed on this wonderful laid-back nature to puppies that he has produced in the past and we are hoping for more of the same from him. We are also in love with his beautiful expression, nice head, and unique type.
Ghidora is easy to love and live with and we couldn't be more pleased with him. We are especially excited that we have the opportunity to use him as our first stud male because of his great health and proven track record with producing healthy puppies.
Registered Name
UKC GRCH, NIPPO-USA MEIYOSHOU Boukyou No Tora Go Miyagi Kozaki RATN TT
Call Name
King Ghidora
AKIHO #
11-730
UKC #
P718-450
Sex
Male
Color
Red Brindle
Born
Jan 28 2011
Genetics

E/E will contribute colored, cannot contribute white

kbr/ky may contribute brindle or red
L/L will contribute normal coat, cannot contribute long coat

Health

Thyroid: Normal (March 2018)
New Barnhunt Title: Novice (RATN) February 1, 2019 (1st Japanese Akita to get Novice Barnhunt Title)
UKC Top Ten #7 Japanese Akita, 2018
UKC Best Stud Dog, November 1st 2015
UKC Grand Champion, October 26th 2014
1st Male Grand Champion Japanese Akita (2nd Overall)
UKC Champion, April 26th 2014
UKC Top Ten #4 Japanese Akita, 2014
NIPPO-USA Champion Meiyoshou, May 11th 2013
Show History
Specialty Show
Feb 9 2014: AKIHO Seiken Yuushuu 4th. Judge: Shigeru Sano
Feb 8 2014: UKC Adult 3rd; Judge: Lynn Martin
Feb 12 2012: AKIHO Wakainu 4th. Judge: Tsuguo Toyoda
All Breed UKC
Oct 26 2014: Best Champion†, Best of Breed, Group 2; Judge: Patricia Johnson
Oct 25 2014: Reserve Champion. Judge: Rebecca Harris
Oct 25 2014: Reserve Champion. Judge: Michelle Blackowl-Chavez
Oct 12 2014: Best Champion†, Best of Breed, Group 2; Judge: Elizabeth McKennon
Oct 12 2014: Reserve Champion. Judge: Susan Nikkel
Oct 11 2014: Best Champion†. Best of Breed. Group 3. Judge: Jerry Brown
Oct 11 2014: Best Champion†. Best of Breed. Group 3. Judge: Helayne Parker
Sep 21 2014: Best Champion†. Best of Breed. Group 2. Judge: Al Orwin
Sep 20 2014: Reserve Champion. Judge: Debbi Orwin
Apr 27 2014: Adult 1st. Best Male. Best of Breed†. Judge: Tracey Kallas
Apr 26 2014: Adult 1st. Best Male. Best of Breed†. Group 3; Judge: Nina Marie Sherrer
Apr 26 2014: Adult 1st. Best Male. Best of Breed†. Group 3. Judge: Larry Hansen Jr
Dec 15 2013: Senior 1st. Best Male†. Judge: Katherine Short
Sep 15 2013: Senior 1st. Best Male. Judge: Susan Nikkel
Sep 15 2013: Senior 1st. Best Male. Judge: Janet Fink
Aug 03 2013: Senior 1st. Best Male. Best of Breed. Group 1. Judge: Tracey Kallas
Aug 03 2013: Senior 1st. Best Male. Best of Breed. Group 1. Judge: Andrew Mills
Jul 21 2013: Senior 1st. Best Male. Judge: Valerie Pilts
Jul 21 2013: Senior 1st. Best Male. Judge: Elizabeth McKennon
Jul 20 2013: Senior 1st. Best Male. Judge: Lynn Martin
Jul 20 2013: Senior 1st. Best Male. Judge: Barbara Marin
June 16 2018: Best Grand Champion. Judge: Polly A. Dake-Jones
June 17 2018: Best Grand Champion. Judge: Lila Fast
Japanese Breed Exclusive
Nov 1 2015: UKC Best Stud Dog. Judge:  Helayne Parker
May 11 2013: NIPPO-USA Souken 1st, Best Male, Saikoshou, Reserve Surpreme. Judge: Tomio Yano
May 13 2011: NIPPO-USA Yochiken 1st, Best Puppy. Judge: Yoshiyuki Mizuko
† Competition Win towards Champion/Grand Champion