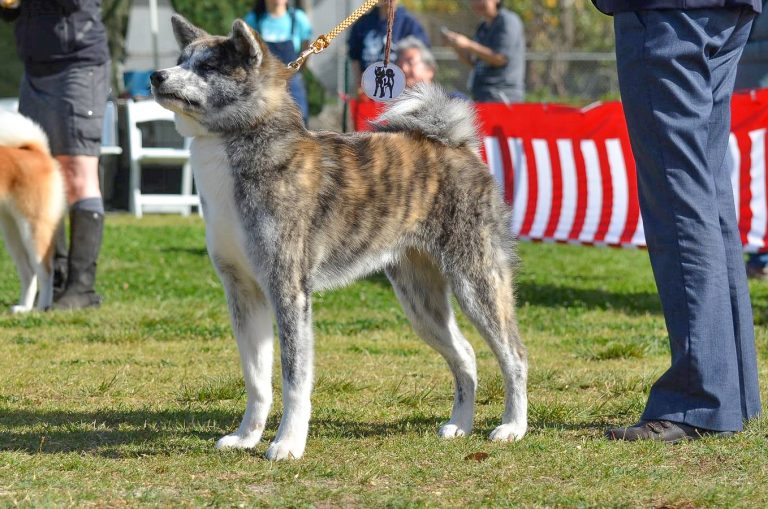 Senka is the founding canine member of our kennel and is also the first Japanese Akita that we have had the pleasure of bringing into our home. We acquired her from Kaiju Kennels in southern California.
She obtained her UKC championship at only 6 months of age on her first show weekend. In addition, she also did very well at her first AKIHO show in 2018, placing first in her age class.
Senka is exactly what we are looking for in a foundation female. She has wonderful personality, is extremely affectionate with her people, loyal, playful, mischievous, full of energy, and very focused when doing sports. We love her wonderful red brindle coloration, her plush coat, excellent front, beautiful movement, and feminine face.
In the future, we are very excited to participate in many canine sports with this girl and are looking forward to what she produces.
Registered Name
UKC CH IntCh Futami Go Kaijusou NV RATN
Call Name
Senka
AKIHO #
17-4395
UKC #
P840903
Sex
Female
Color
Red Brindle
Born
20 MAY 2017
Genetics

E/e may contribute colored or white
kbr/ky may contribute brindle or red
L/l may contribute normal or long coat

Health
Pedigree
Toramaru Go Shirai
Yuushou Go Musashi Aiwa
Matsukaze Go Musashi Aiwa
Sara Go Shirai
Tamayuu Go Aomori Mikamisou
Taiyoukou Go Akita Iijimasou
Yaotome Go Zenhosha
Mizuki Go Kousetsusou
Riki Go Minatomaru
Dairyuu Go Minatomaru
Hana Go Ryuukaen
Kuromikage Go Kousetsusou
Takeryuu Go Marunosou
Haru Go Ryuukaen
IABCA International Champion (IntCh), February 16, 2019
AKIHO Sohken 3rd Female, February 10, 2019
New Barnhunt Title: Novice (RATN) February 2, 2019
New Barnhunt Title: Instinct (RATI) February 1, 2019
UKC Top Ten #3 Japanese Akita, 2018
New Nosework Title: Novice Vehicles (NV) June 17 2018
AKIHO Yoken 1st Female, February 11, 20

18
UKC Champion, December 2nd 2017
Show History
Specialty Show
Feb 11 2018: AKIHO Yoken Female 1st. Judge: Ryoji Suzuki
Feb 10 2019: AKIHO Sohken Female 3rd. Judge Kōsei Miura
All Breed UKC
Dec 1 2017: Best of Breed. Best Female. Group 3. Judge: Emily Carabello
Dec 1 2017: Best of Breed. Best Female. Group 3†. Judge: Tami Hayden
Dec 2 2017: Best of Breed. Best Female. Group 4†. Judge: Lynette Rutz-Komorowski
Dec 2 2017: Best of Breed. Best Female. Group 3†. Judge: Debra Mitchell
Dec 3 2017: Best of Breed. Best Female. Group 3. Judge: Tracy Doty
Dec 3 2017: Best of Breed. Best Female. Group 4. Judge: Carrianna Glenn
Mar 3 2018: Best of Breed. Champion. Group 4. Judge: Dr. Bev Sigl Felton
Mar 3 2018: Best of Breed. Champion. Group 4. Judge: Nancy Eilks
May 5 2018: Best of Breed. Champion. Group 1. Judge: Elizabeth Mckennon
May 5 2018: Best of Breed. Champion. Judge: Carrianna Glenn
May 6 2018: Best of Breed. Champion. Group 3. Judge: Teresa Kocher
June 15 2018: Reserve Champion. Judge: Carol Gaines
June 16 2018: Reserve Champion. Judge: Polly A. Dake-Jones
June 17 2018: Champion of Champions. Judge: Lila Fast
Oct 20 2018: Champion of Champions†. Group 3. Judge: Barbara Trammel
Oct 21, 2018: Champion of Champions†

. Group 4. Judge: Sandra Spoull-Kowalski

  
Japanese Breed Exclusive
Feb 10 2018: Reserve Best Champion. Judge: Jerry Brown
Feb 9th 2019: Reserve Best Champion. Judge: Kevin Izard-Carroll
† Competition Win towards Champion/Grand Champion
International Show
Feb 17 2019: Best of Breed. V1 Rating. Judge: Kristin Block